How to Use CBD Hemp Oils & Treats for Your Dog:  A Beginner's Guide
Aspirin is derived from willow tree bark. Rosey periwinkle has given us powerful anticancer compounds, and the South American cinchona tree relieves malaria. A full 40 to 50 percent of all pharmaceuticals we use today are derived from plants. From the dawn of time, humans have used plants to treat ailments.
Today's darling of the medicinal plant world is definitely cannabis, namely the non-intoxicating form of cannabis—the hemp plant. Because hemp has THC levels of under .3% it has no mind-altering effects. It's cousin, the Marijuana plant contains THC levels of over .3%. 
The medicinal ingredient in hemp's leaves, flowers, and stems is a substance called cannabidiol or CBD. Manufacturers isolate CBD and then suspend it in oil from either Hemp seeds to deliver "Full Plant Oil" (as Frenchie Fries does) or in coconut, MCT, or olive oil. Pet owners drop the CBD oil into their dog's mouths or onto food or treats. Some hemp-derived CBD treats also come with the right dose of CBD already infused into them.  
Humans have used hemp medicinally for 1,000 years, and some speculate 10,000 years. Today, many in holistic veterinary science are promoting CBD oil due to how successfully it eases anxiety, inflammation (arthritis), pain, seizures, and more. The list of physical and emotional issues pet owners claim CBD oil alleviates is growing fast. In fact, the abundance of anecdotal evidence has to lead to these university and organizational studies: 
Cornell University Study – Dogs with Osteoarthritis
 significant decrease in pain in osteoarthritic dogs and

 increase inactivity 
Colorado State University Study – Dogs with Seizure Disorders
89 percent of dogs receiving CBD had a reduction in the frequency of seizures
Colorado State University Study Published in Journal of the American Holistic Veterinary Medical Association 
This first-of-its-kind study gauged owner perception of how cannabis products worked for their pets' issues. Since our fur-friends can't speak, going with owner reports is one of the best ways to determine hemp-derived CBD potency. 
Hundreds of participants indicated how CBD products affected a multitude of signs and ailments. On the whole, dog owners reported that the hemp products were at least moderately if not very helpful in numerous areas. 
 64.3% reported that the CBD helped to relieve their dog's pain either moderately or a great deal. 

50.5% reported the products helped their animals sleep moderately or a great deal. 

Nearly 50% stated CBD products eased their dog's anxiety, also either moderately or a great deal. 
The chart below breaks down several issues and owners' perceptions of CBD effectiveness.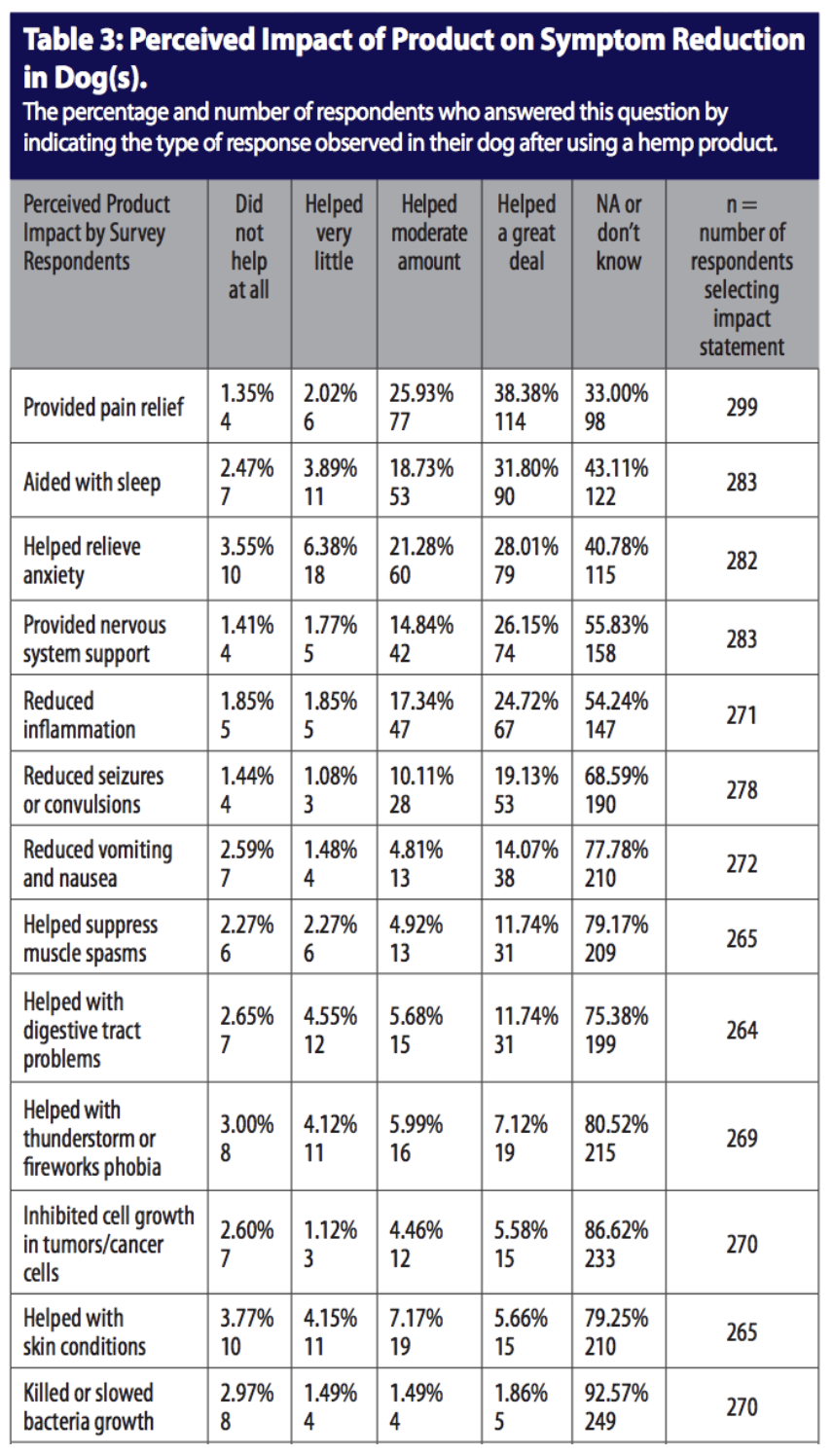 At the same time, researchers asked owners about any side effects their dogs exhibited. In 2017, a World Health Organization Study found "cannabidiol in its pure state is safe and well-tolerated by animals, causing no side-effects." Echoing these findings, the Colorado State University researchers found only minor side-effects in the vast majority of subjects. The pet owners weighed in saying that the most frequent side effect was increased sedation (22% claiming moderate to significant increase) and increased appetite (16% claiming moderate to a significant increase.)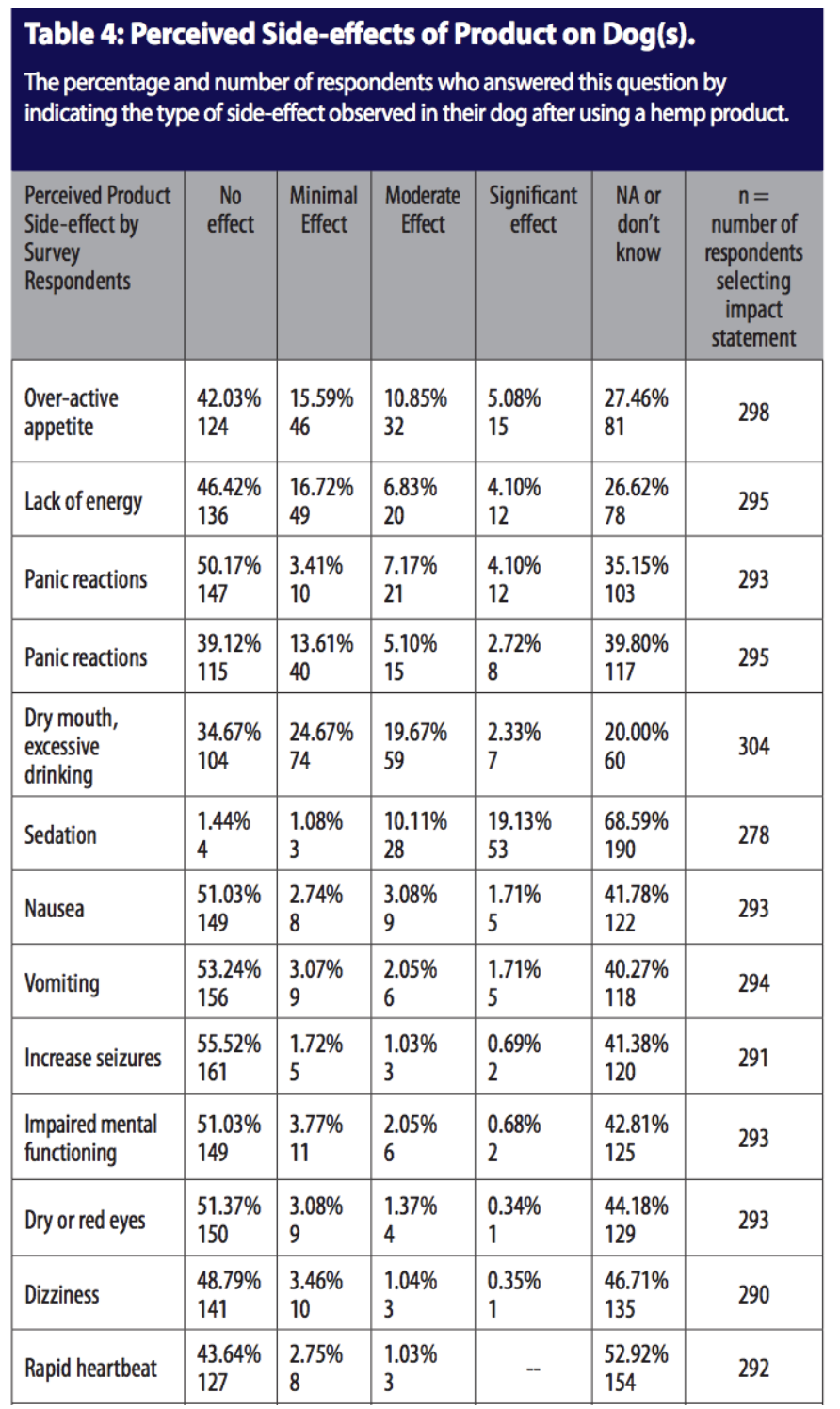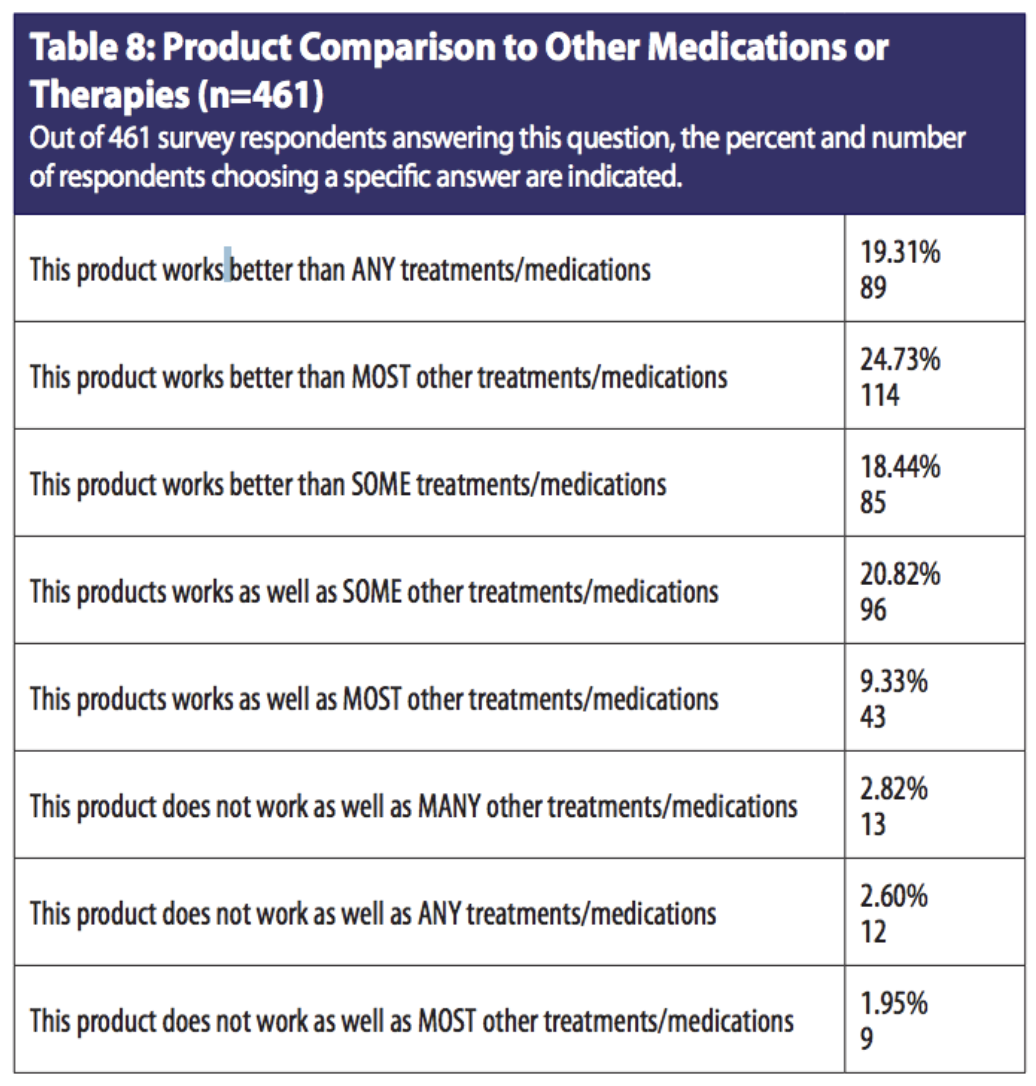 The Science Behind How Hemp-Derived CBD Impacts Your Dog
Medicine has known for centuries about our circulatory, endocrine, and other systems, but it wasn't until the 1980s that researchers discovered the "endocannabinoid system." This interconnected chain of receptors covering the brain, nervous system, glands, and organs acts as the body's operation control for healing. Beyond deriving them from the environment, the body even produces some cannabinoids of its own. The endocannabinoid system's main job is balancing the immune system, increasing or decreasing its responses to various stimuli. CBD oil helps the system stay regulated. 
Common Canine Issues Treated with Hemp-derived CBD Oil
Dog owners used CBD for the following conditions: 
Anxiety – 49% of the dog owners in the JAHVMA survey found CBD relieved their dog's anxiety by either "a great deal" or a "moderate" amount. They use the CBD for dogs with regular separation anxiety and as a prophylactic when a loud thunderstorm or fireworks are imminent.
Seizures –  4% of dogs suffer from canine epilepsy. As mentioned above, a study carried out at Colorado State found 89 percent of dogs receiving CBD had a reduction in the frequency of seizures. More, standard epilepsy medications like phenobarbital can have serious side effects like weight gain, lethargy, and depression. Many pet owners have successfully avoided those by using hemp-derived CBD oil and treats. 
Arthritis / Inflammation –  A Cornell University study involving dozens of dogs found that those receiving CBD had not only a significant decrease in pain but significant increase inactivity.  Inflammation is often caused by an excessive immune system response to injury. The inflammation becomes a problem on its own by causing pain. CBD can help the immune system regulate itself better so excess inflammation doesn't occur. With the inflammation eased, the dog becomes more active. 
Cancer –  While the research is early when it comes to the effects CBD has on cancer, anecdotes, and human studies often amount to enough to encourage dog owners to give CBD hemp oil a try when they get this devastating diagnosis. First, many studies of humans have found that CBD can ease nausea and stimulate appetite in those taking chemotherapy and other cancer medications. One study even revealed that cannabidiol slowed the growth of new cervical cancer cells and induced existing cell death in a group of women. 
Pain Management –  While not studied in dogs as yet, many studies have found that cannabidiol is an effective treatment for chronic pain in humans.  It may boost the levels of dopamine. Better yet, researchers report the levels do not need to be increased over time as the body adjusts to the CBD. 
Find the Safest Sources for Hemp-Derived CBD Oils and Treats
Legal across the U.S., CBD oils and treats for dogs are widely available online. Not all manufacturers adhere to Frenchie Fries' high standards.   
Many CBD oil and treat manufacturers have emerged in the United States in the past five years. Since a business can start online with little overhead, it's smart to do a little research. 
Keep your pet safe when you choose a hemp-derived CBD oil source that adheres to: 
Current Good Manufacturing Practices (cGMP): More than general guidelines, the Food and Drug Administration (FDA) has created formal regulations for manufacturing processes and facilities. Manufacturers must stay up-to-date with all changes to these practices. Compliance is regulated by the Food and Drug Administration (FDA).

100% organic, all-natural ingredients

High-quality, human-grade ingredients

Veterinarian approved – meeting

standards set by the AAFCO. 

Documentation from a third-party lab that tests the products and verifies them free of THC, heavy metals, harmful bacteria, and toxins. 

A Certificate of Analysis (COA): test results of the cannabinoid profile

Organic products made in the USA. 
Frenchie Fries is happy to meet all of these standards and more in an effort to improve your dog's wellness while keeping him or her safe. 
More buying tips:
Use only products intended for dogs. Sure, we're both mammals, but some CBD products contain ingredients innocuous to humans but unhealthy for the dog.  
Read the ingredients. We believe in "Full Plant Oil" that suspends CBD isolate (derived from hemp flowers, leaves, and stems) suspended in hemp seed oil. These substances occur together naturally and have the best chance of working together to support health. 
Administering Hemp-Derived CBD Oils and Treats
Concentrations of CBD in the oil vary by manufacturer. Follow the dosing guidelines on your packages closely.
Frenchie Fries CBD oil comes in 250 mg  (8.33 mg per 1 ml serving) and 500 mg  (16.66 mg per 1 ml serving) concentrations. One ml amounts to one dropper full. The first works best for dogs under 50 pounds. The higher concentration is for dogs over 50 pounds. 
Pet owners either drop the oil directly into the dog's mouth, put it on a treat or mix it in with food or water. It has a mild flavor that most dogs love. Frenchie Fries Wellness Treats, Comfort Chews, Calm Chews, and Joint Care Chews are formulated for specific issues. Follow the directions on the package and provide only the number of treats recommended by the dog's weight. 
After beginning with CBD oils and treats, monitor your dog for increased sedation or appetite. Typically, these side-effects are rare and minimal. If they do begin to impact your dog's quality of life, reassess your use of CBD, as you would with any medication. 
Hemp-Derived CBD for Dogs FAQs
Is CBD safe for dogs?
A 2017 World Health Organization Study found cannabidiol to be "safe and well-tolerated by animals, causing no side-effects." Echoing these findings, the Colorado State University researchers found mild only side-effects in some subjects. Pet owners report increased sedation and increased appetite in fewer than one out of five instances. Still, a dog can have an "idiosyncratic" reaction to CBD or any pharmaceutical or supplement. Watch your dog closely as you begin your CBD treatments. 
What are the side effects of CBD for dogs?
In addition to increased drowsiness and appetite, the American Kennel Club has reported some instances of dry mouth and lower blood pressure. If your dog begins drinking more after you begin a CBD oil or treat regimen,  consider reducing the dose. Similarly, if your dog appears dizzy or light-headed, reducing the dose could rectify the issue. 
Are Hemp and CBD Oils the Same Thing? 
Hemp oil is made from the seeds only of the hemp plant. While it is full of health-boosting Omega-3 fatty acids, it does not have the health benefits that come from other parts of the hemp plant. CBD or cannabidiol is derived from the flowers, leaves, and stems of the hemp plant. It's an isolate that is suspended in an oil. Frenchie Fries uses hemp seed oil as the CBD carrier, but other manufacturers use olive, coconut or MCT oil. We believe using a "Full Plant Oil" approach, provides the most complete health benefits. 
How fast does it take hemp-derived CBD oil to start working? 
If you are dosing your dog for anxiety, he or she should start to feel calmer within one to three hours of their first dose. For more developed issues like pain, we suggest you administer CBD or hemp for dogs regularly for two to four weeks. Gauge the difference in behavior after that point.  Our product specialists can answer your specific questions more thoroughly. Don't hesitate to call 805-364-3065 to ask your dosing, frequency, and wellness questions. 
Can a dog overdose on CBD oil?
We've all come home to a dog food bag torn open and much of the contents consumed. A food-motivated dog can open cabinets, get on countertops and otherwise outsmart us when they smell a tasty treat. With CBD oil, rest assured that should this happen, because it's 100% natural, the dog will have only minor side effects like drowsiness, diarrhea, and possibly dizziness from a slight drop in blood pressure. If you're administering the CBD oil with a dropper or treats one at a time, the chances of overdose are almost non-existent. 
Can my dog take hemp-derived CBD oil with current medication? 
The complexity and variety of pets and their illnesses prevents us from answering this question here. Your best bet is to consult with your veterinarian who understands medication interactions, can observe the dog and conduct tests. 
Can my CBD oils or treats go bad?
Both Frenchie Fries CBD oils and treats stay fresh for up to one year when kept in a cool, dark cabinet. 
Do CBD or hemp oils for dogs lose effectiveness over time?
Recent research has indicated that CBD and hemp oils do not lose potency over time. There is no reason to increase the doses to achieve the same effects. 
Is Frenchie Fries on Social Media? 
Yes! Follow us on Facebook, Twitter, Instagram, and Pinterest to keep up with the latest research on using CBD and hemp oils to support pet health. 
How do I contact Frenchie Fries customer service?
We are at 805-364-3065 Monday through Friday from 8:00 a.m. to 5:00 p.m. to answer your questions and fulfill any orders. You can also reach out to us via chat on our website.